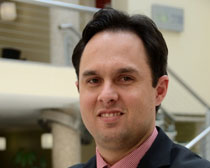 Eugene Wessels, Business Insights Manager: Enterprise Business Reporting at SARS
The project, which kicked off early last year, aims to combat tax non-compliance, improve revenue collection and enhance service delivery by government.
Eugene Wessels, business insights manager: enterprise business reporting at SARS, unpacked the solution during a case study presentation at the ninth annual ITWeb Business Intelligence Summit, held in Johannesburg earlier this year.
The implementation involved the manipulation of various types of data for it to conform to SARS datasets, the geo-coding of taxpayers in order for SARS to attach spatial relevance to the taxpayer, the application development of the GIS solution, the development of GIS reports and the execution of various GIS analytics, says Wessels.
The application is a Web-based system that is currently accessed during office hours by about 250 people located in over 64 SARS branches across SA, he explains.
Upskilling during the project was done via training presented by the vendor, AfriGIS, research by in-house resources and by working with AfriGIS on certain aspects of the implementation.
The biggest learning to come out of the implementation, says Wessels, was the "the complexities associated with the geo-coding of taxpayers' addresses. The poor data quality, constant renaming of South African streets, technicalities of geo-matching algorithms and large volumes of data were quite challenging."
The SARS case study was one of several on the programme at the BI Summit, where Wessels was joined by other local and international BI subject matter experts.